Snorkeling
Discover the underwater world by snorkeling under supervision. Get information about the fish you can come across and experience the Cape Verdean underwater world. Swimming certificate required. Materials included.
Snorkeling in the coral bay
See the amazing underwater world in the coral bay, experience a green plain with colored fish, little to no waves and discover the wonders of this place.
prices:
€ 55,00 per person
€ 30,00 per child between 8-11 years.
(From Riu Touareg we ask €65,00 each)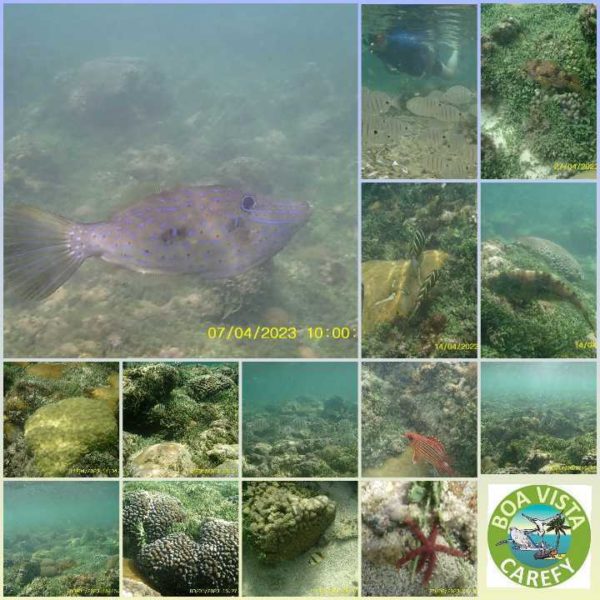 Beach, BBQ, Fishing and Snorkeling day
Enjoy on and from the water. During this tour you will be picked up at your hotel by our taxi driver, he will take you to the boat where we will be waiting for you. Then we will first sail a bit, looking for a suitable place where the fishing rods can be thrown out. Who will catch the first and biggest fish? After fishing we will go to the island of Djeu, where the first snacks and drinks are already waiting. Enjoy the underwater world, laze on the beach or take a walk on the island. There will also be several games available, such as a football, catching games and much more. Experience this day like a local does too.
Food: Rice, Salad, Vegetables, Chicken, Freshly caught fish, Hamburgers, Sausages.
Drink: Sangria, Beer, Wine, Soft drinks, Water.
Drinks, food, beach games and materials are included.
Available every Wednesday (Full Day)
Price:
€75,00 per adult
€37,50 per child
(From Touareg we can ask extra costs).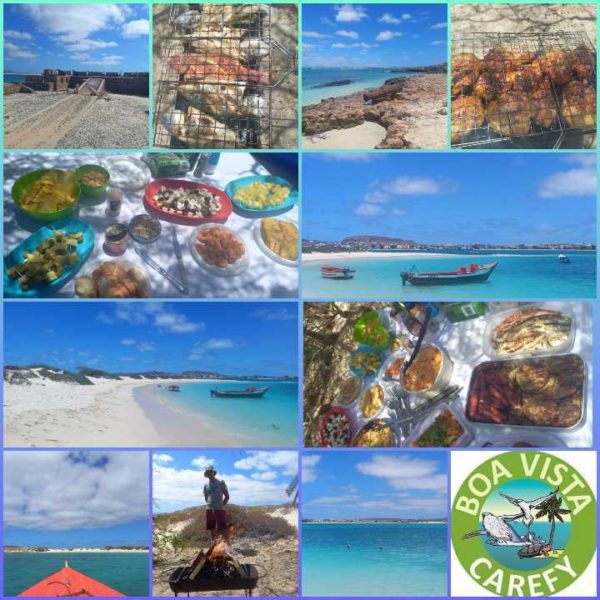 Gelidonya Family Bay cruise (All inclusive)
Enjoy a very relaxing half day excursion on Gelidona. Gelidonya is a beautiful, big and very comfortable Sailing yacht and nothing is to much. Enjoy the served drinks (non-alcoholic and soft drinks), the served fingerfood while you are relaxing on a sunbed listening music and the entertainment. Dance, Laugh and relax is definitly a discription of this excursion.
Prijs:
€ 52 each adult
€25,00 each child 4-11 years old.
Gelidonya Adults only Baycruise
We are sure you definitly are able to relax during this tour, but do you want some more action? Join the local Quiz, Swim in the clear blue ocean, Dance at the beat and make memories! Drinks will be served, fingerfood will be available and a lot of fun guarenteed.
Prices:

€70,00 each adult.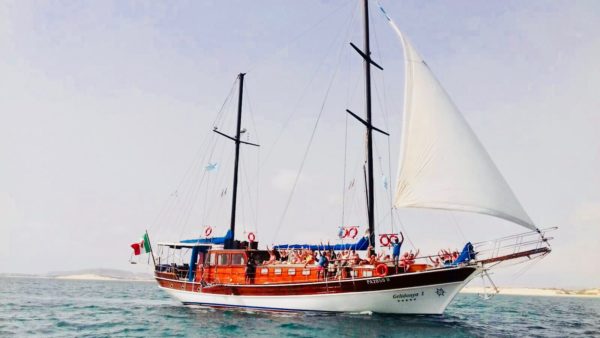 Catamaran Bay Cruise
Enjoy a well-deserved and wonderfully relaxing day on the Catamaran. The tour includes transfer, drinks, snack and swimming stop.
Family bay cruise
€55,00 per adult
€27,50 per child 4-10 years

Also Available with lunch at Perola Chaves
€65,00 per adult
€32,50 per child
Adults only Bay Cruise
€55,00 per adult Including Champagne